Thai Garden Design recently helped this Expatriate couple to re-design and build the Modern Landscaped Tropical Garden of their dreams, in the rolling hills of Hua Hin.
Have acquired the property two years previously, they had dreamed of transforming their garden, and having just be allowed back to travel after the troubles created by Covid, now was the time to do it.
Waterfalls & Water Features
Comprised of two main areas (upper and lower gardens) the upper garden was the main focus. Adjacent to the main living quarters and a large outdoor terrace, the existing garden was a long patch of dusty grass. A bougainvillea hedge that had outstayed it's welcome. Being situated on a hillside, many large rocks protruded from the soil – offering many feature opportunities.
At the center was to be a waterfall pond, decorated with natural rocks, and a tall handsome date palm, which would set the tone for the rest of the landscape. Both the owners loved all types of ferns, grasses and heliconia, which were used throughout the upper garden.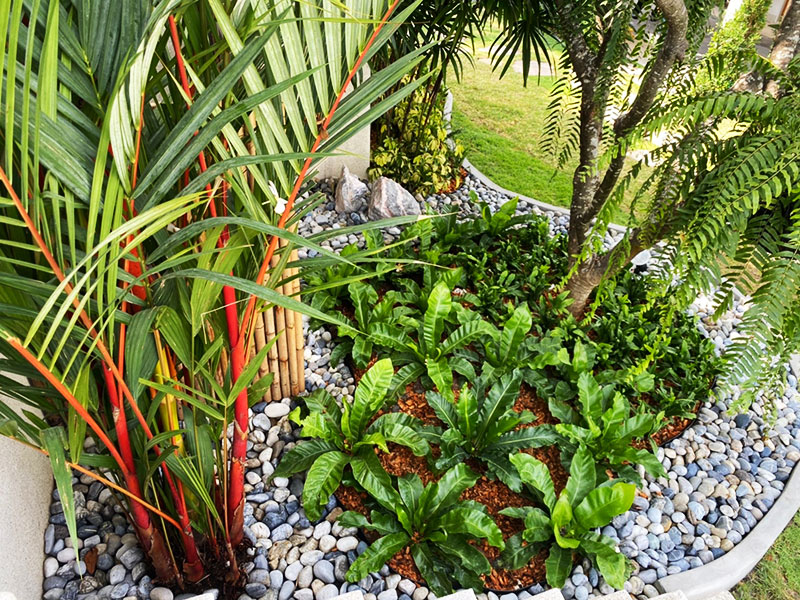 The lower gardens, or entrance gardens, the team built a series of concrete borders, with large white grey pebble stones, ferns and coconut mulch beds.
Ugly parts of the home, like exposed A/C units and pipework were hidden with attractive bamboo screens, that go excellently with the Bali style planting of the garden.
A large rock wall was constructed, behind the pool Buddha statue. The new rocks provide a much more impressive view, especially at night. When lit up, the whole scene is serene and dazzling.
This new garden now has everything, including a new sprinkler system, modern bordered edging, automatic lighting, and a high quality filter system to support the pond. The home owners were thrilled with the final results.
Looking for a professional company to assist you to create a modern landscaped tropical garden of your dreams? You've found us! Contact Thai Garden Design today for more information.